Sanctions Compliance Risk is Growing: A Tale of Two Trades

Increasingly complex standards around sanctions compliance leave operators more exposed to penalties
Throughout the world, sanctions regimes are becoming increasingly complicated, and this trend is set to continue. The swathe of sanctions imposed on Russia so far in the wake of its invasion of Ukraine adds to this evolving picture.
Let's look at two recent real-life cases to illustrate the growing compliance risks that are faced by operators. The challenges may seem daunting, but fortunately there is a solution that offers greater protection for businesses trying to navigate an increasingly complex area.
Why is sanctions compliance risk management becoming more complicated?
Around the world, sanctions regimes are changing rapidly. The regulations are targeted at specific countries, individuals and entities, with various national or supra-national bodies imposing their own rules.
As a consequence, businesses can find themselves struggling to conduct cross-border trade without becoming entangled in legal problems if they fail to keep track of the latest sanctions risks.
Trade 1: Iranian oil reaches Russia
Late in 2021, a crude oil tanker, which was laden with Iranian oil, discharged its cargo near the Black Sea port of Novorossiysk. This was the first delivery of US sanctioned oil to Russia in nearly three years.
Lloyd's List Intelligence data shows that this tanker arrived in port in November 2021 and remained offshore until late December. It discharged its cargo of Iranian oil, then sailed in ballast through the Bosphorus Strait.
Its passage through Turkey was confirmed by vessel-tracking signals, but the data did not show the tanker had called at Novorossiysk. The Russian city is the biggest port on the Black Sea and is a major export terminal for crude oil and related products.
Bearing in mind the lack of signals, it is likely that the cargo was discharged via ship-to-ship (STS) transfer, or that the data was falsified in order to disguise the tanker's movements. These techniques are common ways of disguising the loading and discharge of illicit oil. references and counterparty interviews.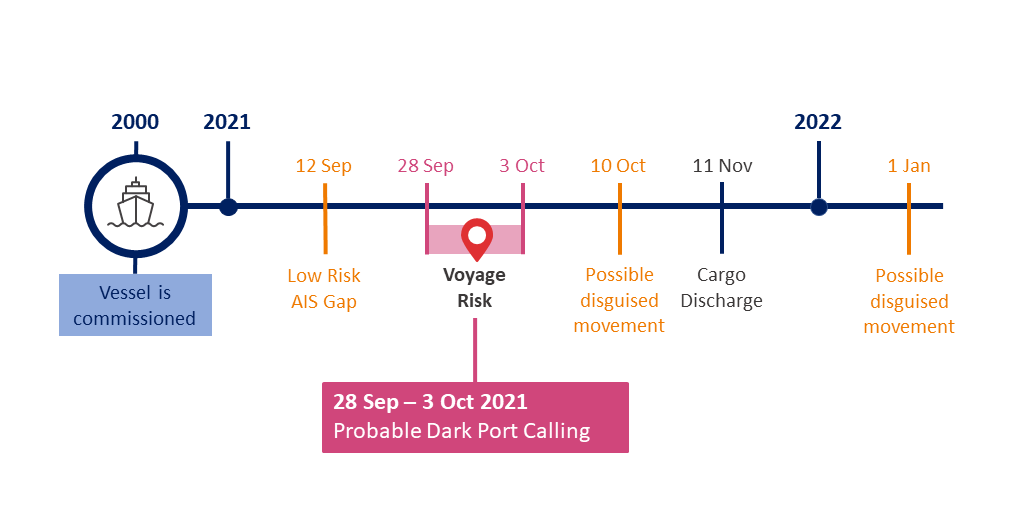 A Lloyd's List investigation revealed that one tanker in twelve may be circumventing US sanctions on Iran and Venezuela.
Our article observed that, "Ultimately, fallout from actions of the few will be visited on the vast majority of tanker operators that do abide by US stipulations." The world fleet consists of 2,200 large crude carriers, Aframaxes and Suezmaxes. We estimate that 150 of them are delivering Iranian and Venezualan oil on a clandestine basis.
Sometimes this practice involves changing a vessel's name, classification society or P&I insurance, none of which is against the law. This situation means that law-abiding companies are likely to face ever more stringent rules and invasive checks, as they seek to do business across international boundaries.
Trade 2: Jet fuel ferried to Syria
In December 2021, Dan-Bunkering, a global fuel supplier owned by Bunker Holdings, was found guilty of selling more than 170,000 tonnes of jet fuel to two Russian companies that then delivered the product to Syria. This transaction breached European Union sanctions intended to prevent repression of the Syrian civilian population.
The EU sanctions have been in place since 2011, targeting business people and sectors of the Syrian economy that could be used to finance its government. As a consequence, 70 entities and 289 individuals in the country are subjected to 'restrictive measures'.
During the period 2015 to 2017, two tankers, Truvor (IMO: 9676230) (named Mukhalatka at the time of the shipment) and Yaz (IMO: 9735323) loaded jet fuel in Greece, Turkey and Cyprus. The product was delivered to two Russian companies that subsequently shipped it to the Syrian port of Banias, in breach of EU sanctions.
At the time of the shipments, the Automatic Identification System (AIS) on the vessels was switched off. A majority of judges in the Danish court ruled that Dan-Bunkering "must have realised that it was overwhelmingly probable that the jet fuel would be used by the Russian military in Syria".
Fuel giant Bunker Holding, its subsidiary Dan-Bunkering and its chief executive officer, Keld R. Demant, all denied these charges, but they did not appeal the judges' verdict. They pointed out that the court did not say that the companies had intended to violate the EU's rules.
Subsequently, Bunker Holding said that the verdict shows how difficult it has become for businesses to navigate international sanctions.
"The judgement shows that it is no longer sufficient to screen trades against direct counterparties," the company said in a statement, "Rather it points out the need to check your customers' counterparties, even including several links downstream.
"The verdict… underlines the importance of continuously improving internal training, systems and monitoring."
What do these cases prove?
The relatively small number of companies that are determined to circumvent sanctions complicate life for legitimate operators. Any business that spans jurisdictions will face challenges, as regimes expand and conflict.
The EU alone is currently imposing sanctions on Afghanistan, Belarus. Bosnia and Herzegovina, Burundi, the Central African Republic, China, North Korea, Democratic Republic of the Congo, Guinea, Iran, Lebanon, Libya, Mali, Russia and Somalia among others.
In February 2022, the US, EU, UK and Canada applied new sanctions to Russia, due to the situation in Ukraine. As new geopolitical challenges materialise, the complexity of complying with the rules will grow.
To navigate these risks, businesses need reliable insight based on advanced analytics. Other players may be trying to avoid detection by switching off AIS signals or hiding transfers of illicit cargo. Honest businesses must rely on the best information available.
The Dan-Bunkering case demonstrated clearly that it is not merely enough to have honest intentions. Trading across borders entails risk and the smart thing for businesses to do is mitigate that risk.
How do we deliver advanced risk and compliance?
Lloyd's List Intelligence Seasearcher Advanced Risk and Compliance provides insight on compliance that makes identifying different levels of risk easier. Understanding and abiding by the rules can be a complex process that involves sifting formidable quantities of data. We provide accurate information on vessels that may be deceiving the authorities, so that professionals in risk, compliance or throughout the maritime industry can avoid any problems.
Our solution highlights potentially dubious activity such as high-risk port callings (including dark port callings), deviation from normal trade routes, loitering and probable dark STS transfers. You quickly gain an in-depth understanding of a vessel's trading pattern, with all the necessary context, so that any potential compliance risks are flagged up clearly.
This is the first time that dark port call detection and dark STS pairings have been brought to the market. We match this data with trading insights to provide a tailored risk score for each vessel.
Our solution brings all the necessary data together in one place. It includes a comprehensive log of voyage events, bespoke compliance reports and complete visibility of what is happening at sea.
Seasearcher Advanced Risk and Compliance combines leading industry expertise, top analytics, advanced algorithms and cutting-edge artificial intelligence to put vessel activity in context. This is complete, consistent, accurate data that you can rely on for world-class compliance risk management.
Key takeaways
The international sanctions regime is becoming increasingly complicated, which makes it difficult for businesses to navigate.
The company Dan-Bunkering was found guilty of delivering 170,000 tonnes of jet fuel that was delivered to Syria, despite not being transported via a Syrian vessel or company.
The judges conceded that Dan-Bunkering did not intend to evade the EU's sanctions regime, but imposed a penalty anyway, arguing that the company should have anticipated where the fuel would end up: in a sanctioned territory
Our advanced analytics showed that a crude oil tanker delivered sanctioned Iranian oil to the Russian port of Novorossiysk, despite apparent AIS signal manipulation.
Lloyd's List Intelligence's Seasearcher Advanced Risk and Compliance solution provides all the data you need to highlight risky vessel behaviour and strengthen compliance.