Port congestion and increased berthing times the new normal under China's strict Covid policy

China's zero-Covid policy has created an expensive new normal for shipping and President Xi Jinping's steadfast stance at the policy-defining Communist Party congress suggests there is no respite on the horizon.
The lockdown in Ningbo in recent days, first reported by Lloyd's List, has provided yet another stark reminder of how shipping and logistics companies have fallen victim to the heavy-handed policy.
With blocked roads, closed warehouses and stranded truck drivers comes disrupted container transport and increased vessel berthing time at terminals.
The number of containerships with a berthing time of two days increased considerably in the week commencing October 14 when the lockdown started in the city's Beilun district, Lloyd's List Intelligence data shows.
As one of the world's largest and most efficient box ports, Ningbo boasts an average berthing time of about one day.
A total of 95 containerships called at terminals in Beilun over the course of the week, according to the data. Of those, 12 ships, or 13%, stayed at berth for two days or longer. The figures include ships that have yet to be untied.
In comparison, that proportion between August and September stood at just 7.5%.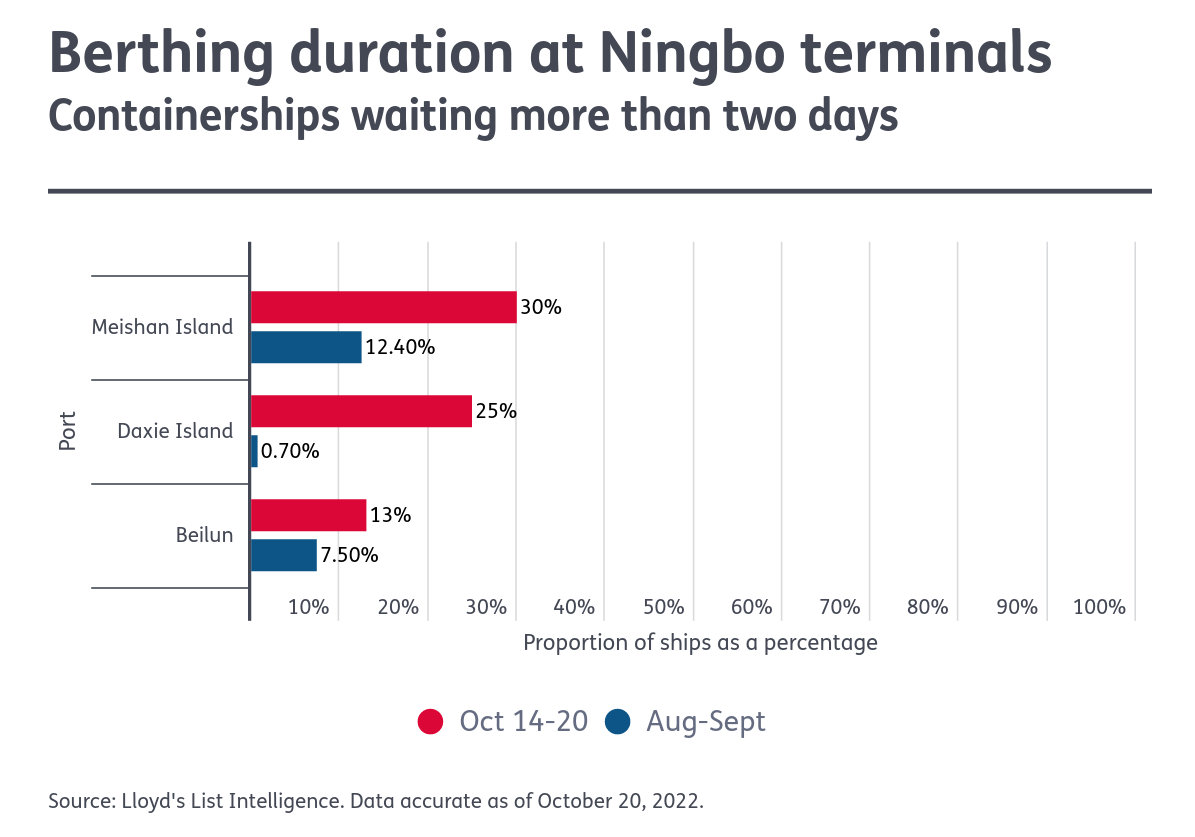 At the other two major terminals in Daxie Island and Meishan Island near Beilun, the ratio has increased to 25% and 30%, respectively, from less than 1% and 12.4% over the same period of time.
Container lines have been forced to accept the reality that the lockdowns are now the new normal and that expensive adaptations are here to stay.
Many are dispersing equipment into different ports from just a few hubs to spread their risks. However, this comes at the cost of efficiency.
If you need help navigating port congestion and increased berthing times for vessels, Predictive Fleet Analytics may be the solution to save you time, money and resources. It enables you to accurately track vessels, predict vessel movements and anticipate port congestion and delays in minutes.