Suspicious and unusual vessel activity increases in wake of Russian sanctions
Russia's supply chains have shown resilience since the invasion of Ukraine, with cargo flows being redirected to 'friendly' countries using transport corridors touted by President Vladimir Putin as long-term priority trade routes. The wave of sanctions levied against Moscow by countries in Europe and North America have forced the Kremlin to find new trade partners around the globe to keep the cash flowing, but also suppliers to fill the shortfall left by the departure of major Western businesses.
Russia is prioritising and lifting existing supply chains to both reach new markets and strengthen relationships with its key allies. With this adjustment in trade dynamics has also come shifts in trends related to port operations and increased suspicious activity around vessels carrying Russian-origin cargo. For example, as reported by Lloyd's List, the wider Caspian Sea ports cumulatively have not seen an increase in activity post-invasion, but there has been a spike in commercial vessels travelling for periods with their automatic identification systems (AIS) off in a behaviour known as 'going dark'. There are several reasons for ships to switch off AIS, including transmission or safety issues, but it is commonly used as a tactic to obfuscate journey origins and destinations, as well as other illicit activity.
AIS gaps in the Caspian Sea totalled 440 in September, according to Lloyd's List Intelligence data. This is 37% higher than the number recorded in August, and the most since May 2021. The spike was driven by Russian and Iranian-flagged tankers and general cargoships. The increase in AIS gaps correlates with a higher number of what appear to be dark port calls, where ships are mainly trying to hide journeys to Russia or Iran. Some 48 voyages of this nature occurred in August, rising to 60 in September.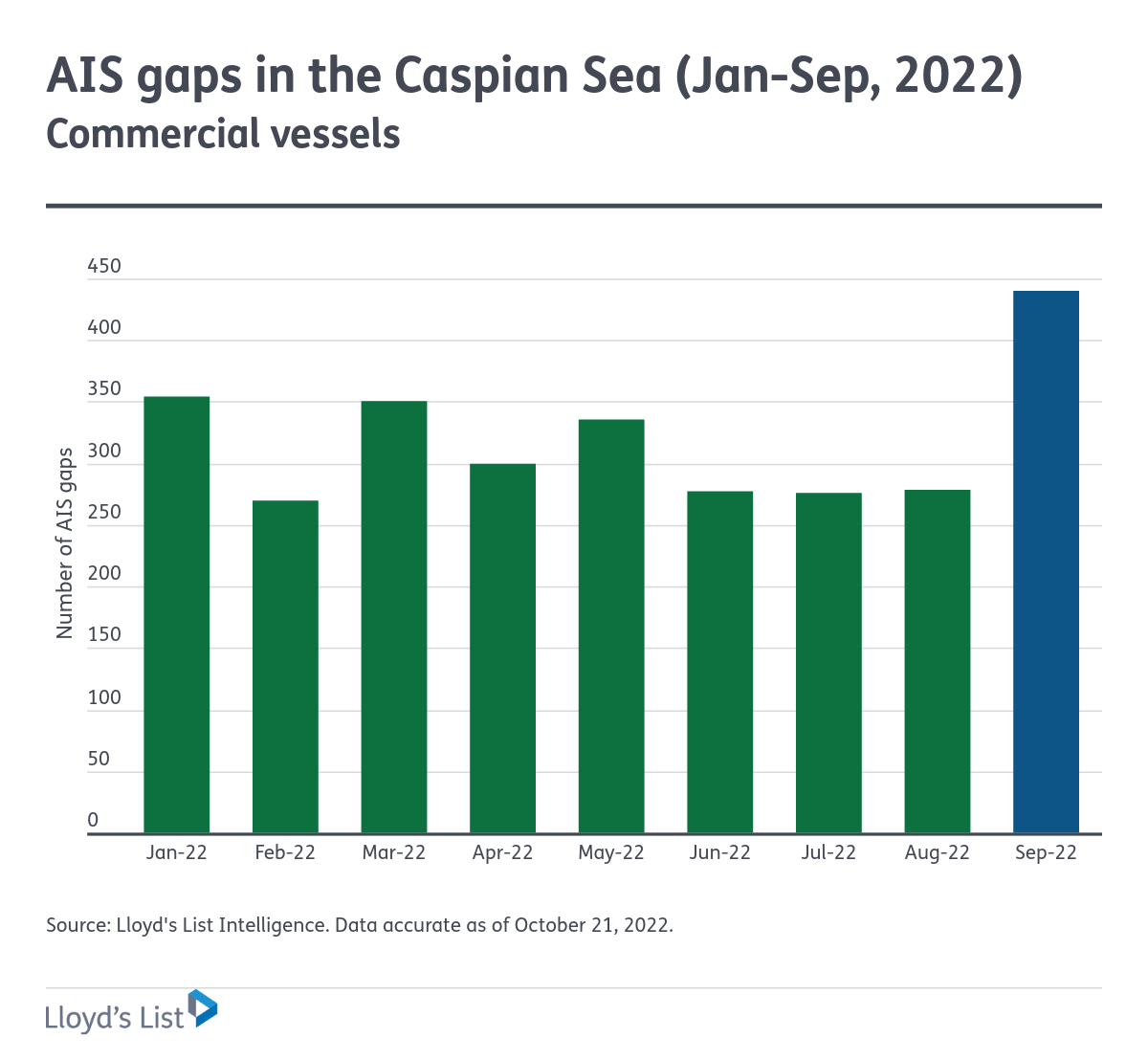 Meanwhile, vessel tracking shows Russian-owned tankers have faced delays to load or discharge oil in the past few weeks, with some even sailing from areas still laden, suggesting increased difficulties in obtaining trade finance and finding buyers. The unusual movements come amid speculation that increased tanker calls to the UAE from Russia could be an attempt to mask gasoil origins.
Russia's delayed tankers
Victor Titov (IMO: 9301407)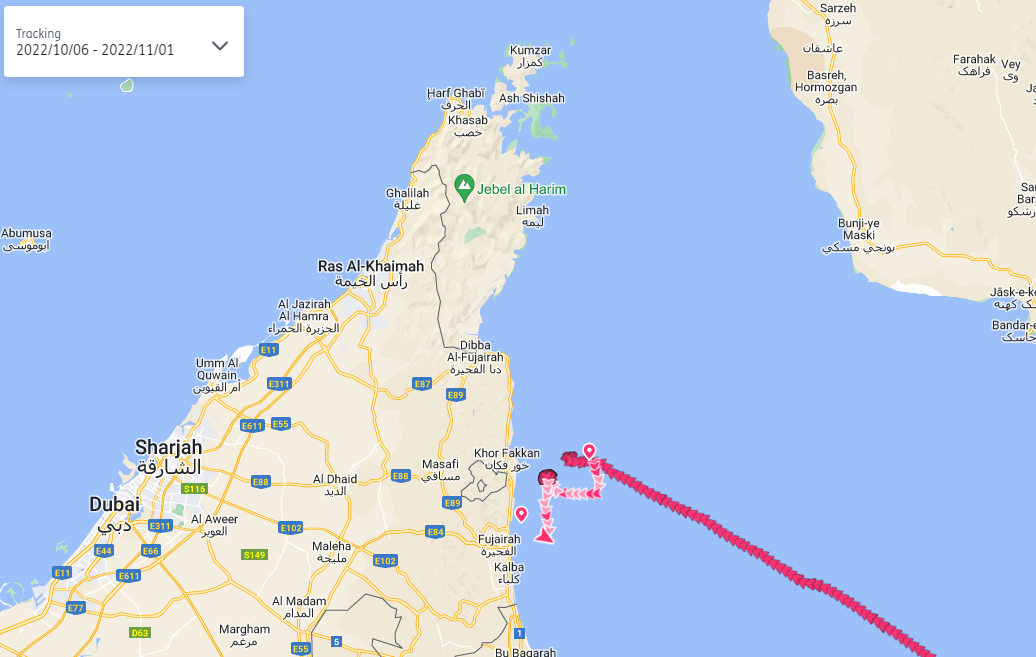 NS Consul (IMO: 9341093)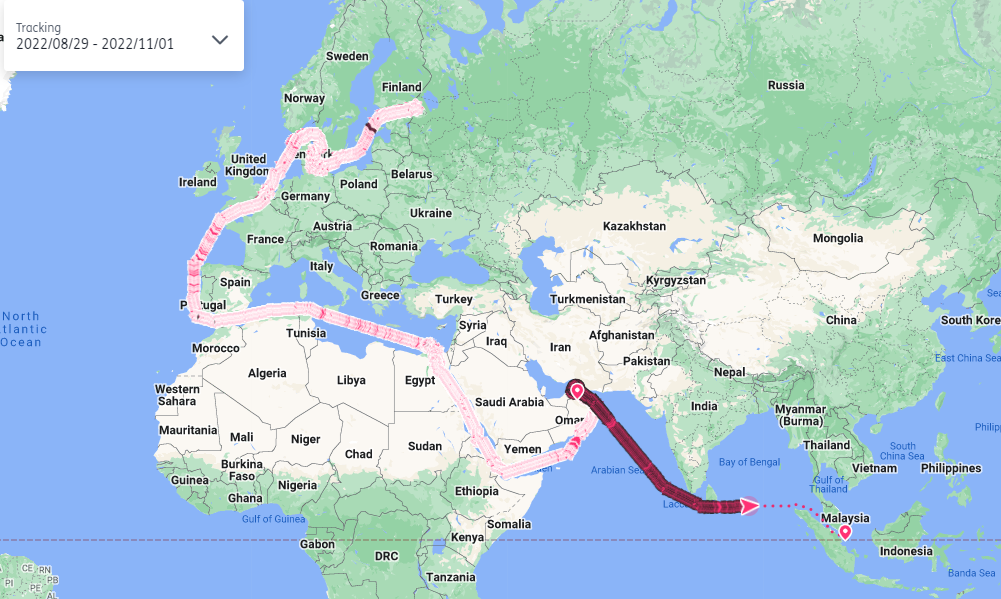 This Sovcomflot-owned tanker signalled it would call at Mundra, India, then the UAE.
It is now sailing to Singapore after spending 23 days near the Khor al Fakkan anchorage.
It has yet to discharge its 100,000 tonne cargo of crude loaded at Primorsk on August 29.
EU sanctions on seaborne Russian crude imports, as well as a ban on bloc-based firms providing maritime services to any non-EU vessels transporting Russian oil in breach of the oil price cap, begin on December 5. A similar ban on refined product exports begins on February 5. The ban will apply for all cargoes loaded from this date, with the US Department of Treasury signalling that vessels have until January 19, 2023 to unload as part of the winding down phase.
India, China, Turkey and the UAE have increased imports of Russian oil over the past eight months, while European refineries have steadily reduced purchases, recalibrating tanker trade flows, especially for suezmax and aframax tonnage.
Trade and trade patterns are changing fast. Professionals in Compliance and those who assess risk need complete and trusted data to help them form confident decisions around finance, shipping, insurance and all KYC/KYS matters. Seasearcher Advanced Risk & Compliance is our most powerful tool for the identification and rating of vessel status and behaviour related to risk. Find out more here.