How Detailed Casualty Data Helps Keep World Trade Moving
For the people involved in keeping our oceans safe, marine casualty data is critical, but it's also increasingly vital to keep the world's supply chains moving.
Thankfully, total losses at sea and in port are now relatively uncommon. In 2020, only forty-nine large ships were lost on our oceans worldwide.
These numbers are low, particularly considering that traffic has increased exponentially in recent decades. Far more common are incidents that involve other types of damage to vessels such as mechanical failures, structural damage, leakages and groundings. We report on around 3000 such casualties a year and these, too, can be enormously disruptive and expensive.
When the container ship Ever Given got stuck in the Suez Canal in March 2021, global supply chains were plunged into chaos and Lloyd's List Intelligence data revealed that $9.6 billion of goods were being held up each day. The incident left few consumers and businesses unaffected, no matter where they were located.
In an increasingly connected world, accurate, quickly available information about maritime casualties can be invaluable when it comes to sorting out potential disruption, keeping trade flowing and mitigating risk.
Total loss: rare but costly
Although the number of large ships lost in 2020 (49) was almost unchanged from 2019 (48), it was the first time in five years that the total had not fallen. Statistics from the Safety and Shipping Review 2021 show that, over the past decade, shipping losses have roughly halved.
While safety at sea and in port may be improving, there are still accidents that incur heavy costs, damage trade, harm the environment and sometimes cause loss of life.
The marine environment has become a particularly hot topic in recent years, with a frequent focus on pollution created by oil spills and other materials. Shipping accidents are believed to contribute significantly to the degradation of the aquatic ecosystem, because they can result in the discharge of harmful chemicals.
In a recent high-profile incident on the seas close to Sri Lanka, a cargo ship fire resulted in the spillage of 1,680 tonnes of plastic pellets into the Indian Ocean. In addition, the accident was linked to a "toxic mix of metals, carcinogenic and other harmful chemicals", detected on beaches in the area.
Alongside these potential human and environmental costs, incidents at sea can be economically disastrous. As well as disruption to trade, it can be hugely expensive to replace equipment and property either on the oceans or in port.
Why the industry needs casualty data
For search and rescue teams, coastguards, port authorities and law enforcement officers, quality, clear, complete information on casualties — no matter how serious or slight — is indispensable for their efforts in the aftermath of accidents.
This information is also highly valuable to professionals in shipping, finance, insurance and logistics, as they look to ensure that trade routes remain open and goods can continue to flow with as little disruption as possible in spite of incidents.
The maritime insurance industry deals with cases involving 'casualties' involving loss of income or physical damage, whether to people, property (vessels, offshore energy units and cargo) or the environment. While safety protocols are always improving and reducing risk, the world is also unpredictable, with political disruption, war and terrorism posing threats to maritime trade.
The industry increasingly needs up-to-date 24/7 casualty data that comes from trusted sources, based on accurate reporting and information that is validated quickly.
Casualty data: the complete picture, fast
Our intelligence is gathered from a range of trusted and respected sources, including the network of 500 Lloyd's Agents and sub-agents worldwide, rescue centres, coast guards and dedicated correspondents on location or nearby, with whom we have a close working relationship.
We also maintain a network of expert marine industry sources including brokers, tug operators, marine lawyers and loss adjusters, as well as draw on the latest open source research techniques.
Around half of casualty incidents are reported within one day. Upon receiving reports of new incidents, we publish 80% of them within 20 minutes. We publish follow-up casualty reports within one hour of receipt in 99% of cases. Over the past five years, we've logged 4,410 follow-up casualty reports, averaging 2.5 additional follow-up reports for each incident we report.
Our research team continues to monitor casualty incidents for ongoing developments as long as it takes for the situation to be resolved. Sometimes we keep reporting for several years after an accident if salvage efforts, pollution control, insurance claims or litigation are involved.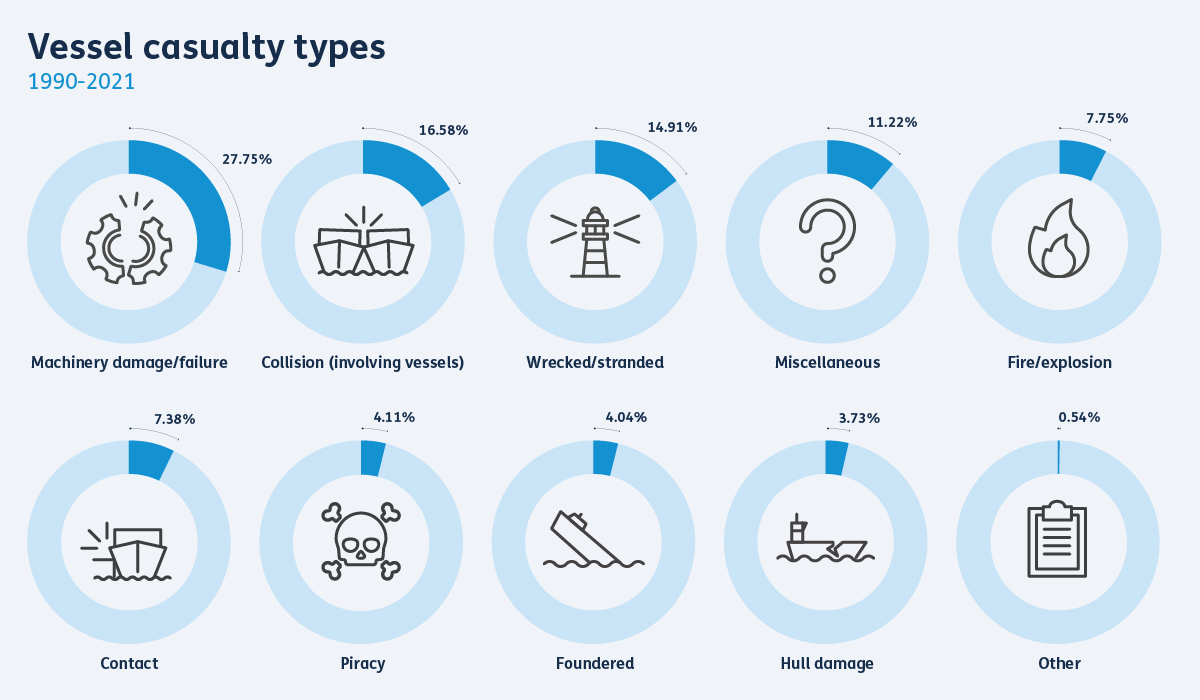 Lloyd's List Intelligence Casualty reporting includes information on accidents involving merchant vessels and fishing vessels of fifty gross tonnes and above. We record the following incidents:
Sinkings

Groundings

Fires and explosions

Collisions

Contact with inanimate objects like piers or wharfs

Machinery breakdowns

Hull damage with water ingress

Crew labour disputes

Missing vessels

Piracy attacks

War loss/damage during hostilities

Seizures and arrests

Port state control detentions

Miscellaneous incidents

In addition, the Lloyd's List Intelligence data hub reports on relevant non-marine incidents like fires or explosions in port, industrial action, delays due to shipping backlogs, natural disasters that affect shipping, pipelines accidents, oil spills and weather events that damage infrastructure or involve potential insurance claims.
The value of accurate information for risk assessment
As we've previously discussed, good-quality maritime casualty information is vital for examining and avoiding risk. Incidents at sea most often involve technical issues, like problems with power, propulsion or steering. A full 30% of casualties in our database are from damaged machinery. Engine outage can delay vessels for hours or days, and that is why insight into the details of the incident and its delay is important, so that all parts of the supply chain can have actionable information to keep trade flowing, goods moving and mitigate financial risks.
International trade is increasingly dependent on the global shipping industry, but the way that goods move around our seas can be complicated suddenly by unforeseen complications like rare but potentially disastrous casualties. To take one prominent 2018 example, the UK-flagged G Washington lost more than one hundred containers overboard in very heavy seas in the North Pacific Ocean while on passage from Xiamen, China to Los Angeles, USA. The incident highlighted issues around weather routing, securing standards on deck and the structural strength of containers that offered operators who hoped to prevent similar losses invaluable lessons for the future.
The financial importance of casualty data is underlined by the 2021 Safety Shipping Review, which flagged up many commercial matters among its key points. These included the resilience of maritime supply chains, problems with port accumulation facilities and regulatory compliance issues.
Constantly evolving guidance and regulations can be better anticipated when trends in casualties are identified, described with complete detail, and the causes and impacts understood.
For that reason, quality intelligence on incidents at sea is becoming more valuable all the time. And that's why we ensure our Casualty data provides the timely, accurate, detailed information that maritime industries need to keep world trade moving.
Key takeaways
Accidents at sea are rare but can involve a huge cost in terms of money, the environment and loss of life.

High quality information on maritime casualties is invaluable to professionals in shipping, finance, insurance and logistics, as well as those involved in safety at sea.

Lloyd's List Intelligence Casualty Service alerts customers to incidents quickly and accurately.

Our casualty data is complemented by our exclusive relationship with the network of Lloyd's Agents, covering hundreds of major ports and commercial centres worldwide.

We cover comprehensive reporting of incidents at sea and port, and we keep reporting until developments like salvage, insurance claims, pollution control and litigation are resolved.

In an uncertain and interconnected world, good quality maritime casualty data can help to keep trade moving.