It's About Time: Improving Estimated Times of Arrival
Maritime businesses are forced to deal regularly with vessel ETA inaccuracies. What are the knock-on effects and how can organisations secure better ETA data?
Time is money… and so much more
When activities in port are based on accurate arrival information, they are more efficient and cost-effective. Facilities become less congested, goods move quicker, fuel is saved and fewer pollutants are emitted. Unfortunately, good quality estimated arrival data is not always easily available.
Accurate estimated times of arrival (ETAs) are clearly an important factor for businesses involved directly in port activities. But they are also imperative for the wider maritime and logistics industries. If goods are delivered late, there are often issues with spoilage, late delivery costs and insurance claims, with resulting problems further down the supply chain.
For marine businesses, it is notoriously difficult to get consistent data on ETAs.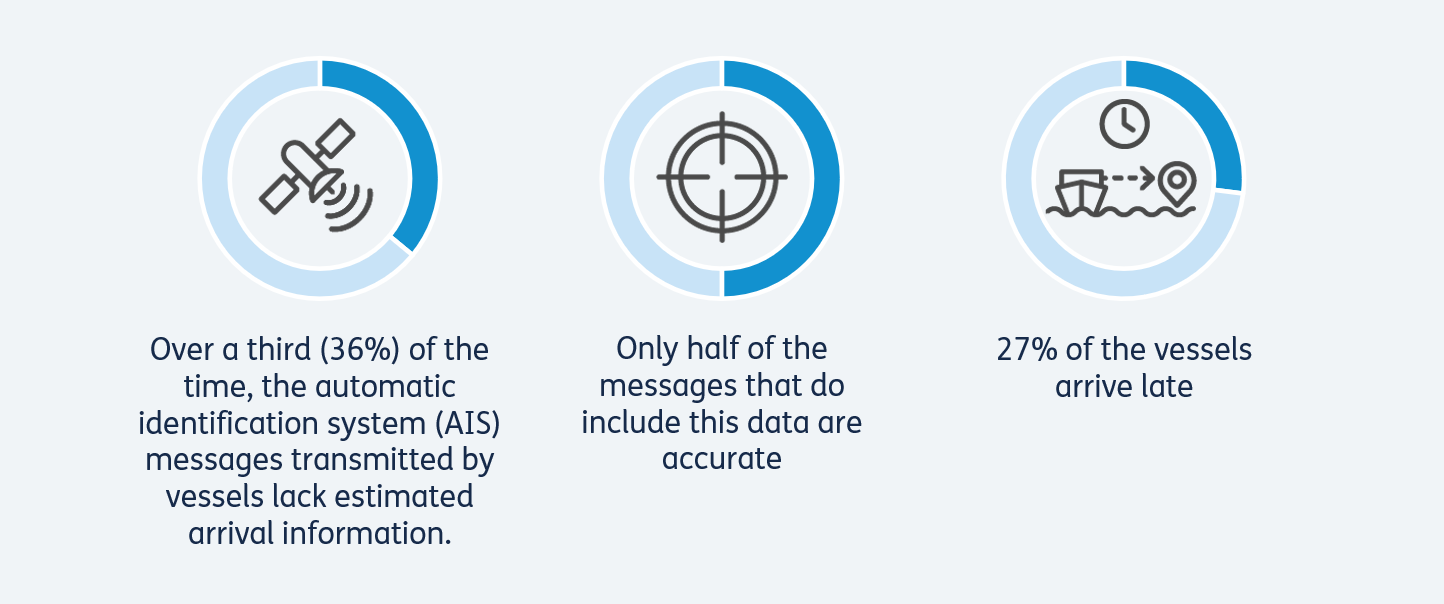 Lloyd's List Intelligence analysis of AIS messages (2020)
For that reason, organisations are frequently forced to make important planning and supply chain decisions based on inaccurate, incomplete or speculative information. How does this situation impact the industry and how can your business make sure its data is more reliable?
The effects of inaccurate ETA data on maritime businesses
Port Congestion
The volume of container ship traffic and global demand for goods has grown exponentially in recent decades, putting added pressure on ports and increasing the times vessels typically wait to reach berths. Queues at ports in North America reached record levels in 2021 as ships waited at anchorage, causing local and worldwide disruption.
As container vessels dawdled for weeks until berths opened up, customers faced frustrating delays as they waited for deliveries, supermarket shelves went unfilled, and shipping companies faced extra costs.
The crisis was exacerbated by a lack of accurate information, with ports and maritime businesses struggling to obtain accurate ETAs for shipments. That meant delays, disruptions and other supply chain issues were not always identified well in advance so that remedial action could be taken to put them right.
A lack of reliable data meant last-minute changes, reassignments, problems with labour and constant pressure to firefight issues as they arose.
Fuel waste and emissions
Receiving accurate data as early as possible is the key to saving fuel and combating pollution. With this information, ships could tailor their speed to arrive 'just in time' and port call activities could be better coordinated.
Wasting fuel not only drives up costs unnecessarily; it also releases excess pollutants at a time when maritime sustainability is increasingly under the spotlight. Research shows that cutting waiting times at anchorage means vessels use substantially less fuel and can reduce emissions by an average of 35% annually.
Another study analysed the movement of all container ships destined for the port of Rotterdam. It discovered that slashing waiting times by 12 hours cut CO2 emissions by 188,000 tonnes per year, and nitrous oxides by 1,000 tonnes.
Without reliable ETAs, vessels continue to waste fuel at anchorage. Although most shipping emissions are produced at sea, pollutants like NO2 and CO have far more serious health consequences, including premature deaths, in busy port areas.
Lateness and spoilage of cargo
For maritime businesses, delayed or spoiled shipments don't just mean disrupted supply chains and logistical headaches. Often, lateness or spoilage involves demurrage payments or insurance claims against charterers.
In a recent court case, the judge ruled that a shipowner could recover damages, in addition to demurrage, after a cargo of soybeans from Brazil became spoiled as it was waiting to be discharged in China.
Although this judgement was disputed and subsequently overturned by the Court of Appeal, it suggests that the financial repercussions of delays in ports are becoming ever more complicated and unpredictable.
Additional fees
A lack of reliable ETAs can lead to a variety of extra financial costs as ports try to tackle congestion and delays. Rising penalties include demurrage charges, waiting and handling fees at port, prices invalidated by late deliveries and higher internal operations costs.
At Los Angeles and Long Island ports, authorities introduced a $100 fee for every container that wasn't unloaded after eight days. This charge increased by a further $100 for each additional day after that.
A lack of reliable ETA information has collided with current supply chain problems to bump up costs for maritime businesses. During 2021, for example, demurrage and detention charges imposed on shippers more than doubled at the world's twenty largest ports.
Logistical headaches
The shipping business operates increasingly on a 'just-in-time' basis, working 24 hours a day, 7 days a week. Companies want ships to be at berth for as limited a time as possible, so chandling, servicing and onward logistics must take that approach too.
When ETAs are inaccurate and delays occur, that has knock-on effects for the businesses that supply and service vessels. The system works best when ship owners, suppliers, freight forwarders, port authorities and customs officials have reliable information and can coordinate their activities effectively.
What difference does accurate vessel ETA data make to maritime trade?
Stronger commercial position
With better ETA data, the commercial wing of your business can reduce financial risks, keep customers updated, and ensure agents and suppliers have the best information about shipping operations in real time.
If customers feel they are getting a more transparent, efficient service, they are more likely to investigate new opportunities to do business.
Smoother fleet operations
Accurate ETAs make for better planning so that shipping operations become proactive rather than reactive. Quality data means you can identify potential delays, disruptions and other supply chain issues in advance, enable contingency plans and communicate effectively with the customer.
It allows your organisation to make decisions with confidence rather than relying on guesswork.
Schedule more precisely
When you're working with reliable data, there is far less need for last minute changes and reassignments. Without this, maritime professionals are forced to manage inaccurate ETAs by continually firing off phone calls and emails to discover the real situation. When you can rely on the information, it cuts out a lot of this labour-intensive work, allowing staff to focus on exceptional cases.
Access more business opportunities
Reliable ETA data is a valuable source of market intelligence. This information provides an insight into vessel behaviour, port activity and even seasonal trading patterns. This type of knowledge provides businesses with opportunities to enhance service delivery, improve customer satisfaction and gain new referrals.
Predictive fleet analytics: how the industry can crack ETA data
New Predictive Fleet Analytics from Lloyd's List Intelligence provides a rich source of reliable data and analytics for maritime businesses. We've combined over 300 years of experience in the industry, accurate vessel data, detailed port infrastructure data and machine learning algorithms to provide the vessel's predicted next destination, estimated time to berth (ETB), predicted waiting time in port and vessel operating information.
Our data predicts key vessels' ETA to +/- 10 hours of actual time of arrival and ETB to within 1-2 hours of actual time of berthing when the vessels' destination port is confirmed. In an industry plagued by vessel ETA inaccuracies, this insight is invaluable when it comes to forward planning, understanding the port movements of any vessel of interest and identifying potential issues in supply chains.
Big data is changing global trade fundamentally. 'Knowledge is power' is evolving to 'data is power'. To survive in this new environment, businesses need to get ahead of the game. In the maritime industry, reliable ETAs are one great way to drive improvements, cut costs and boost market intelligence.
Key takeaways
It's notoriously difficult for maritime businesses to obtain accurate vessel ETA data. 36% of AIS messages don't include this information, while half of those that do are inaccurate.

The consequences of vessel ETA inaccuracies include port congestion, wasted fuel, excess pollutant emissions, charges for lateness and spoilage of cargo, spiralling demurrage/detention fees and logistical headaches.

Accurate ETAs give companies the chance to improve their commercial position, cut costs, attract new customers and have smoother scheduling and fleet operations.

Lloyd's List Intelligence Predictive Fleet Analytics (PFA) predicts key vessels' ETA to +/- 10 hours of actual time of arrival and ETB to within 1-2 hours of actual time of berthing once port destination is confirmed.