Don't let incomplete AIS data cause setbacks for your shipping operations
Predictive technology allows greater understanding of shipping movements so maritime industry professionals can make better plans and decisions
Operating a business in the shipping industry can be quite a challenge. Certainly, your equipment and processes need to be in top form, but you also need accurate information in order to make critical decisions.
When is the best time to charter a particular vessel? Where is it located now? What's the vessel's destination, estimated time of arrival, or operational status? How congested are the relevant ports?
Make the wrong call, and your business could face penalties, increased costs, missed sales opportunities, or damaged customer relationships.
Why do these data gaps exist?
The fact is, shipping professionals are dealing with crews that, for whatever reason, may not be concerned about logging in the right details.
For example, some crews either fail to or choose not to enter their true destination. Even when the listed port is accurate, ETA data is still missing from 36% of AIS messages. Meanwhile, 27% of those that do publish ETAs fail to arrive within 24 hours of those times.
Global port congestion adds more uncertainty. Remember when port queues in North America reached record levels in 2021? These kinds of long, unpredictable waits outside ports waste both time and fuel – and make it harder than ever to accurately predict when a ship will be docked and unloaded. It's no wonder that demurrage and detention (D&D) fees at the world's top 20 container ports have also increased by more than 100% since 2020.
Vessels operational statuses, historical port calls and AIS gaps are among a wide range of key data points required in shipping which can make or break the workflows of service providers, compliance and operations teams.
Planning and decisions can be made far easier
Even under normal circumstances, predicting vessel activity and port congestion can be difficult, but there is a solution.
Predictive Fleet Analytics offers shipping professionals far better insights on a particular vessel's estimated time to berth (ETB), time of arrival (ETA), time of departure (ETD), and port congestion levels, offering the most accurate possible assessment for operations planning.
For instance, with Predictive Fleet Analytics, destinations are predicted with 70% accuracy, ETA to port is usually within +/- 10 hours accuracy and ETB is predicted within an accuracy of one to two hours.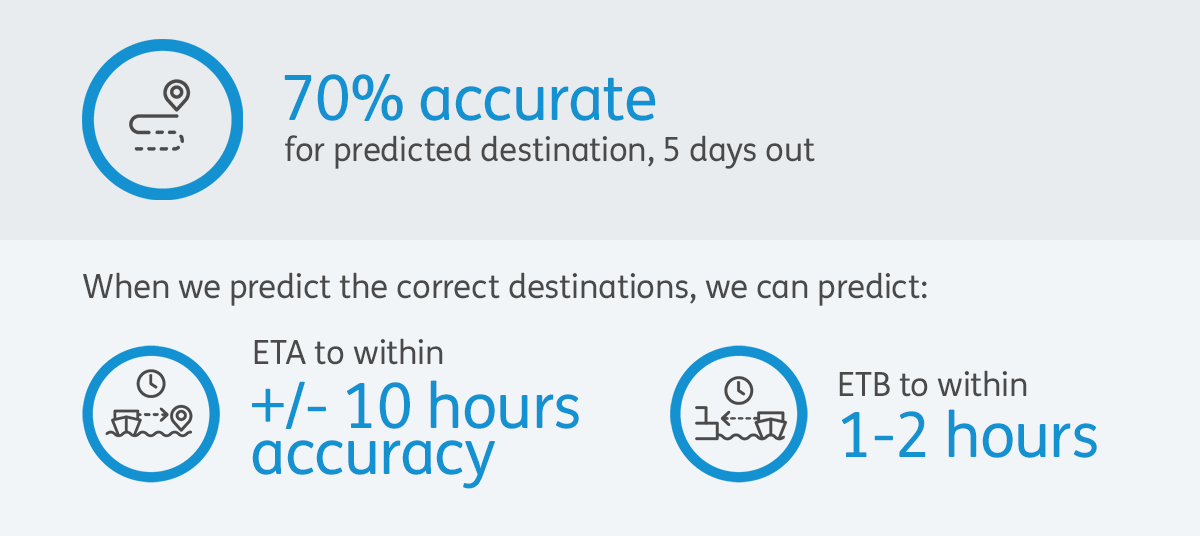 Covering all key commercial vessel types like bulk carriers, tankers, container vessels, ro-ro ships and passenger ferries, this transformative maritime analytics offers comprehensive data and insights to help shipping professionals make decisions that save time, money, and fuel.

Bridging data gaps is no easy feat, consider these tips to kickstart your journey:
Seek alternatives to gathering data manually – It's time consuming, resource intensive and open to human error
Ensure data governance is in place – Check alignment with public standardisation bodies like IMO, ISO and ITPCO* so your data is consistent, reliable, accurate, complete and timely
Embrace innovative technology – Harness the potential of advanced analytics and machine learning
Take advantage of world-class data providers – Conduct strategic market research, identify business opportunities and plan port operations with ease
Never forget the importance of expertise – Combine automated and in-person expertise to get a clear view of risk and maritime trade
Use more than just one source of data – Ensure the highest level of information quality based on multiple, verified and trusted data sources
Always look for more – Proactivity is key. Work with trusted partners to gather the data you need and build a complete view of your operation and business
*IMO: International Maritime Organization, ISO: International Organization for Standardization, ITPCO: International Taskforce Port Call Optimization
AIS data can often be incomplete and unreliable, not only making your job more difficult, but also incur a great deal of time, money and resources for operations. Explore our 7 tips to help bridge your maritime data gaps in more depth with our infographic.